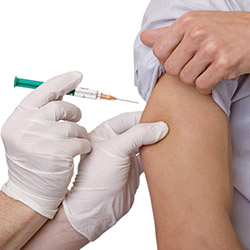 The flu season has well and truly arrived. Influenza activity is likely to have peaked in late December 2019, but has  remained at high levels in Ireland during the first weeks of January. Confirmed influenza hospitalisations are at high levels. The Flu Vaccine is still available in the surgery please ring 021 423 1144 to book an appointment.
Anyone over 65 with a Medical Card or Doctor Visit Card is entitled to get the vaccine free under the HSE scheme.
If you are under 65 with a Medical Card or Doctor Visit Card with an underlying medical condition such as diabetes or asthma you are entitled to get the flu vaccine free.
Facts About Flu
Flu causes death and hospitalisation every year.

Flu Vaccine is the best protection against flu for at risk groups and health care workers.

You need to get the flu vaccine every year as the viruses change every year.

Flu vaccine contains killed viruses – it cannot give you the flu.

Healthy People can have flu without any obvious symptoms and pass it on. 

Flu vaccine is a lifesaver. Get you flu vaccine now. It protects you and your family.
Please call the surgery on 021 4231144 to book your Flu Vaccine appointment now.